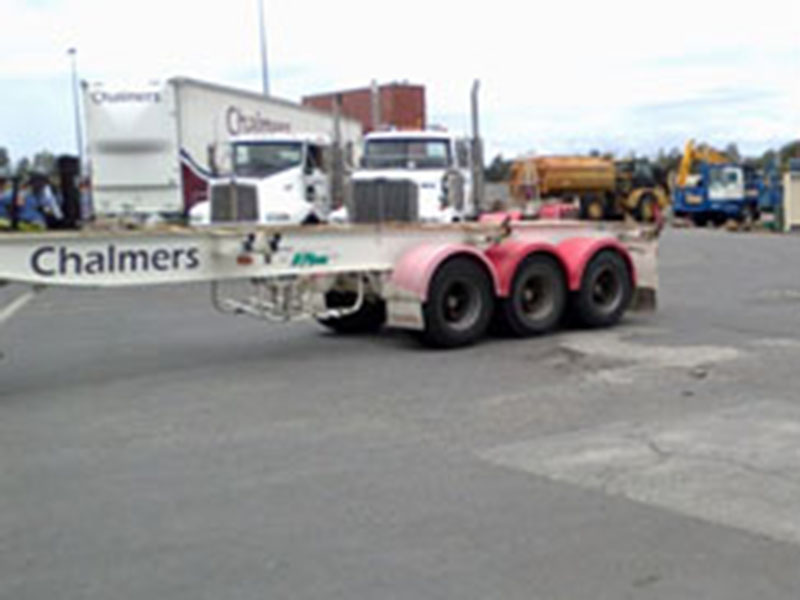 Port pavements withstand extreme loads from heavy vehicles and containers.
EZ Street takes the pressure, performing under dynamic loads of up to 120 t.
ulton Hogan approached Chalmers with a pavement maintenance solution that minimises downtime and keeps traffic flowing around one of country's busiest international freight stations.
Client: Chalmers Industries
Location: Chalmers Freight Station, Whimbrel Street, Port of Brisbane
Value: Continuing supply
Date: February 2013
Project Description
The Port of Brisbane is the gateway to international trade for the people of south east Queensland. It is the state's largest general cargo port, handling exports of coal and rural products, and imports of manufactured goods. Chalmers is an integral supply chain link between the port and the region. The company provides freight station and Container Park services to many of the movers of the 1,000,000 + twenty-foot equivalent unit (TEU) containers flowing through the port.
Challenges
Chalmers relies on the availability, accessibility and operational efficiency of it hardstand areas. The company runs two work shifts, six days per week, to move up to 1000 containers per day. Heavy vehicles operating within the freight station include semi-trailers, B-doubles, super B-doubles and 80 t container lifters. Fully loaded containers, some weighing up to 36 t, are often stacked five high. The corner castings of containers punch holes in the asphalt and constant heavy vehicle movement accelerate the formation of potholes. Potholes in this environment are a risk to people, the equipment they operate and the cargo they are moving. Timely maintenance without disruption to operations is critical.
Investigations
The hardstand area of Chalmers Freight Station is a flexible pavement, with an asphalt surface, built on reclaimed Port of Brisbane land. Heavy vehicle and container movements put extreme dynamic and point loads on this pavement. Consultation with freight station manager Ross Fraser and leading hand John O'Neill identified potholes as a major issue. Damage to mobile plant, including fork lifts, container lifters and prime movers, can be expensive in both repairs and loss of operational capacity. Plant operators risk injury and cargo breakages may result in damage claims. Repairs with hot mix asphalt or concrete involve closing down areas for repairs.
Both products require specialist personnel and equipment and both products need time to cure. In some cases, external contractors may be delayed while undergoing safety inductions and securing Maritime Security Identification Cards (MSIC).
Solution
Time, and space, is at a premium in this demanding trade hub. EZ Street high performance polymer modified asphalt gives Chalmers the power to carry out repairs immediately before problems areas deteriorate further.
Hardstand shutdown time is reduced. Areas not in use are areas not making money.
With EZ Street stored onsite, repairs are done by available staff. Larger repairs are scheduled for downtimes.
EZ Street bulk bags have a six month shelf life, which means productivity is not lost waiting for specialist crews.
When used as directed, EZ Street has out-performed the pavement area surrounding the patch.
Outcomes
Quality, Safety and Environment
Inspection in the weeks following placement confirms EZ Street is performing in this testing environment. Consideration, however, must be given to the specific requirements of the pavement area being repaired. Deteriorated sub-bases and areas under heavy screwing and braking loads may require specialist advice. With pavement repairs happening in real time, issues resulting from potholing are minimised. Pavement integrity is maintained and the potential for injury is reduced. In the weeks following treatment, Brisbane weather stations recorded significant rainfalls. Chalmers ability to repair patches immediately means pavements have stayed intact and have not required hot mix repairs.
For more information
For advice on using EZ Street in specific and critical situations, please contact your Fulton Hogan representative.
Disclaimer: Not a replacement for hardstand pavement.